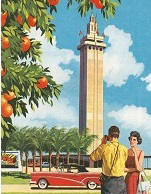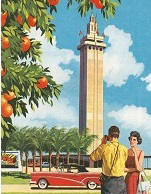 Wow Clermont has really seen some amazing growth in the past few years and we're glad to be a part of it! Verandah Properties has opened its newest branch office within the rolling hills of this beautiful 'Old Florida' location. You can now also find us at 15701 SR 50, Suite 204, Clermont, FL 34711.
We're here to serve the Clermont community with our full service Real Estate Brokerage. Whether it be our original flagship company 'Verandah Properties' who is home to our 'Property Management Only' Division or our newest addition to our brand 'Everyday Luxury Real Estate Group @ Verandah Properties' who is home to our 'Real Estate Sales Only' Division. Both divisions are committed to excellence in service with a passion for 'all things Real Estate' - Two Missions. One Focus. YOU!
Here's a few 'fun facts' about our newest home's most famous 'Focal Point of Interest'
What is that Tower 'towering' over Clermont? The Citrus Tower of Course! Built in 1956, rising 226 feet above ground level putting the total height above sea level at more than 500 feet! The site chosen stands in stark contrast to the rest of Florida's otherwise flat landscape. We LOVE Clermont's hills because they are just not something you see in Florida otherwise. Many of the 'hills' are more than 250 feet high, making it look more like Georgia than Florida.
Built as a tribute to Florida's citrus industry, the attraction was very popular in the pre-Disney days. The history of the Citrus Tower and its construction are illustrated in the lobby with photos taken in its 'heyday' which highlight its storied past. The tower is still open where you can take the elevator's 'ride to the top' where from the windowed observation deck, can see downtown Orlando's beautiful skyline only 26 miles away. Come and visit beautiful Clermont, and hey you may decide to make it your home!
Contact us at 407-855-0331 or www.verandahproperties.com for any Property Management or Real Estate Sales needs!