A first look at the site plans for The Walt Disney Company's future Lake Nona campus made available to the Orlando Business Journal reveals an outline for how one of the region's most anticipated real estate projects will take shape.
Why this matters: Disney's to-be-built Lake Nona campus is expected to be built by 2026 and to be a significant economic driver for the region, as it will add at least another 2,000 jobs in Central Florida, including some Disney workers moving here from California. Further, its presence may serve to attract more corporate expansions or relocations.
On Jan. 20, OBJ reported that new action had been taken on the project, with the city of Orlando records reflecting that a specific parcel master plan is being sought "for the development of an approximately 1.8 million-square-foot office complex with office and flex space within the Lake Nona PD, Parcel 20A."
The Walt Disney company purchased nearly 60 acres in the Lake Nona Region, for the campus as Disney's new regional hub location. During a conference named 'Lake Nona Mastermind: The Future of Lake Nona' it was announced by Jessi Blakely, Vice President of Tavistock Development Company, that plans for Disney's move from California to Lake Nona were imminent and that things are moving along with Disney very well. The master plan for the Lake Nona campus were submitted on January 18, 2023 by Tavistock: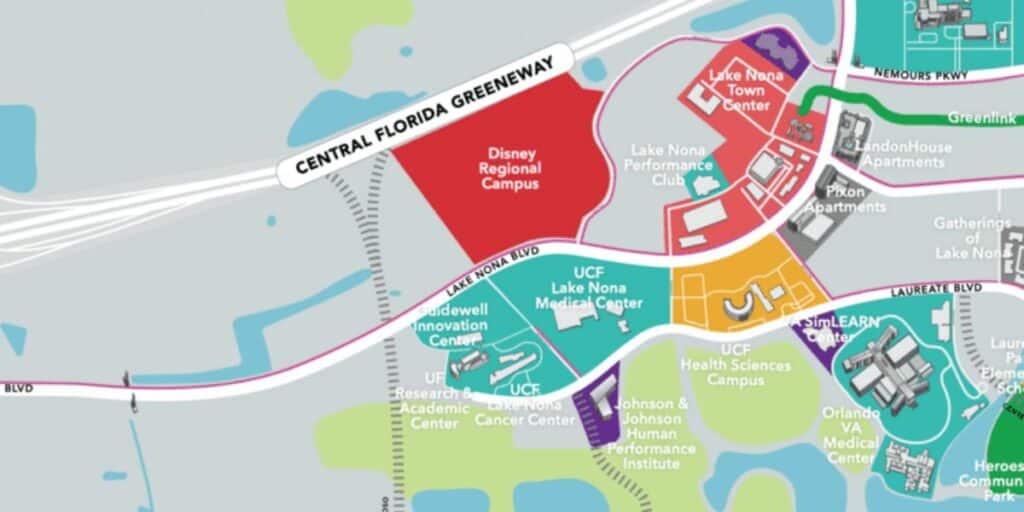 Credit: Tavistock Development
This is exciting and progressive news! Lake Nona will continue in the most positive of directions in terms of building fresh opportunities for new and current residents. With such a large and iconic new neighbor moving to Lake Nona, the local businesses will have the potential opportunity to partner with them in all areas of service. Further it will mean that there will be more demand for the already sought after location in terms of real estate.
Verandah Properties, LLC (Specializing in and Hyper-Focused on the Lake Nona Region which is where our corporate office is located) is celebrating 20 years in the business of long-term property management in 2023! We know Lake Nona and we certainly know professional property management. If you're interested in purchasing a real estate investment (or transitioning your property into an investment) in Lake Nona, we are the company to start (and end) with. Simply reach out and we can discuss your goals and help you achieve them. Click here to schedule a consult.